What Our Clients Are Saying About Spectrum Band
"I think the best and most important thing to note when reviewing Spectrum was that they had the dance floor packed until the very last song. In fact, it was still packed AFTER the music ended at the completion of our reception! That is the BEST thing for a bride and groom to see -- everyone else enjoying the evening as much as you are. Through our extremely long engagement (2 years) I inquired about and corresponded with a lot of vendors. By a mile, Spectrum was the easiest to work with, quickest to respond, and, despite having dozens of weddings on their docket, always seemed to remember all the details of our wedding throughout every conversation we had. There was never a single doubt in my mind that Spectrum would be at our venue, set up in time and everything would go perfectly. As I write this I realize Spectrum is the only vendor I never called to confirm all was in order the week of the wedding. I was so confident they'd be ready to roll. Thank you, Spectrum, for being a highlight of our evening and making our wedding even more special and memorable!"
"Do NOT think twice! My groom pushed back pretty hard on spending a bigger portion of our budget on entertainment/The Spectrum Band versus a DJ. The very next day he admitted "yeah, I was wrong about that. They made the night." The Spectrum Band had my entire wedding on their feet! I've never seen my Dad dance so much in my life; and ALL THREE GRANDPARENTS in attendance even decided to join in! I opted for the duo performance during cocktail hour and dinner which set the perfect tone and took some of the "awkward vibes" out of the transitional parts of the night can have. My guests are still talking about the band 2 months later! From my initial consultation, through hiring, planning, and performance The Spectrum Band was attentive, professional, and dependable. I felt heard and respected during every interaction with them. The Spectrum Band was easily the best investment of my wedding day."
"I can't say enough good things about Spectrum. Our wedding was initially scheduled for November 2020, but with Covid we ended up downsizing our initial celebration and rescheduling our big reception to September 2021. Spectrum was so accommodating and easy to work with regarding that change! They made the scheduling process seamless and incorporated all of our requests, including playing a recording of my late grandfather. The guests were coming up to me all night saying how awesome the band was and how much fun they were having. I could go on about how great they were, but I'll sum it up by saying they were definitely one of the best parts of the night!"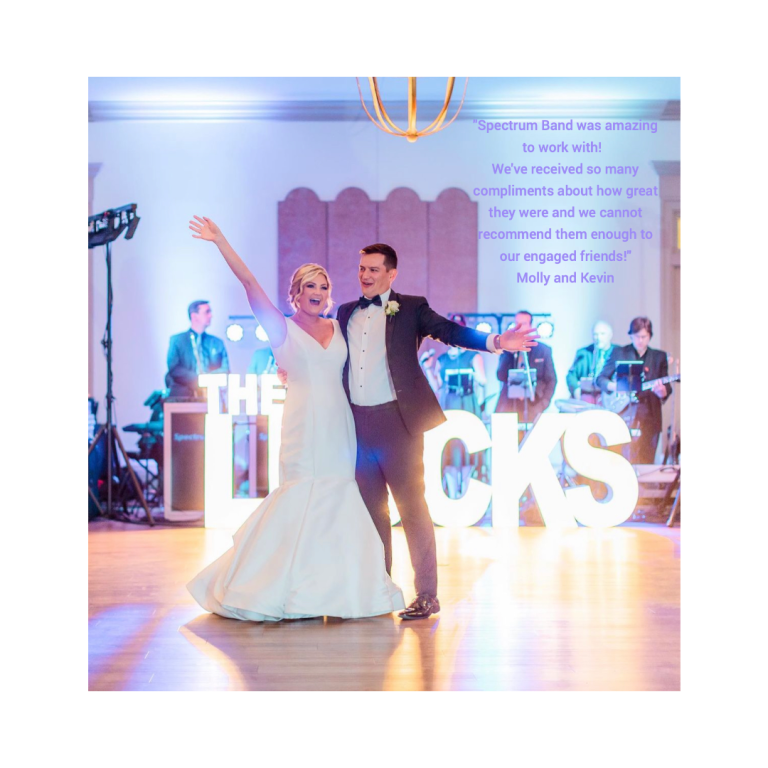 Wedding Day Made!
Hiring Spectrum Band was one of the best decisions we made when planning our wedding. Having a live band with horns was extremely important to us, and we could not have been more satisfied with this talented group. From the get-go, they were easy to work with, responsive, and listened to/matched our requests for the vibe of our wedding. They offer you add-ons in addition to their band, which made this 'non-wedding planner bride' extremely happy. They seamlesly ran the sound at our ceremony, utilized two of their members for a jazz duo during cocktail hour, and provided MC services as well as superb sound and lights at the reception. The dance floor was packed the entire evening, and the compliments continue to come in regarding how good they were. These guys are seasoned professionals - knowing just what the crowd needs at any time. Our wedding had the most perfect feel-good atmosphere, and without Spectrum Band our recpetion would not have been the same!
Not sure how else to describe Spectrum Band except for SPECTACULAR!! Sean was a delight to deal with from beginning to end. His responses were very fast and always accommodating. Fast forward to the evening of the reception! I was asked all evening long "How did you find this band"? "They are the best band I have ever heard"! And truly they were amazing. The dance floor was always packed and Spectrum Band played everything, in all genres! I wish we could go back to that night! We had a duo play during the cocktail hour and dinner hour, and it was the perfect sound! Thank you Spectrum Band for the most memorable evening! It wouldn't have been the same without you.

Spectrum played our June wedding at Union Station and were absolutely amazing! We were getting questions for weeks following the wedding asking for the band's name. They played our ceremony as well. Spectrum learned our first dance song for our wedding and it was amazing. They did a great job reading the room throughout the reception for song selections and everyone had a great time! I cannot suggest them enough. Sean was very quick to response and I never had any concerns the details would be executed perfectly.
I'm the father of the bride, and a musician, so I'm compelled to share my wife's and my opinion of this great band. Spectrum keeps everyone on the dance floor. Great musicianship, plus a proven plan to link three-or-more-songs so the party gets rolling and keeps rolling. All types pf genres -- hence their name -- flawlessly performed. And the versatile combinations for music during your gathering / cocktail hour, and ceremony make this a seamless music resource for your wedding. They've been working wedding receptions for decades, and their professionalism and knowledge of what is needed will make your life easier (you need that planning a this event!). Their music will make your night!
Simply perfect! I'm posting this the day after my wedding (tired and worn out) but the band was just incredible it's hard not to spread the word! We lost count of how many people complimented the band. If you're considering Spectrum, let this be your sign to choose them. You will be so happy you did!
Wonderful Customer Service & Performance!
Spectrum Band played for our wedding at Bogey HIlls Country Club on 10/15/2021. The whole evening was truly magical and the music was perfect. Sean was easy to work with and get ahold of. We also used them for PA for the ceremony and uplighting. Both also worth it. Get the amber lighting upgrade! Thank you so much for an absolutely unforgettable night. I hope I have another reason to hire you again in the future! Maybe an anniversary party!
Words cannot express how thankful we are to Spectrum Band for making our day so perfect! It was the best night of our lives. From the beginning of the planning process, they were so great to work with. I cannot tell you how many compliments we received about how great Spectrum Band was! When impending rain influenced us to change our timeline, Spectrum rolled with the punches and made everything feel seamless! We are so grateful. Our first dance song they learned was better than we could have ever imagined; a memory that will replay in our heads and hearts for a lifetime. Would recommend Spectrum in a heartbeat to anyone who wants their wedding to be a 10/10 with people on the dance floor all night long!
Spectrum Band is St. Louis' most reviewed band!
Click below to access over 400 real client reviews
We are grateful for all of our clients who have shared their experience working with
Spectrum Band